Dr. Michael Allen - September 2019
Simply put, it's instruction delivered or augmented electronically. Learners use their computers, tablets, or phones to access the instruction wherever they are, whenever they have time.
e-Learning comes in many forms, appearing in such variations as to look entirely different from other applications. It will often use integrated media, such as video, animation, photos and narratives. Because of the computer capabilities at hand, e-learning can be interactive, providing game-like learning experiences, simulations, and the advantages of a personal mentor.
Such variations make the term e-learning an all-encompassing term, often interchangeable with online learning, distance learning, MOOC, and digital learning, which can be quite confusing. In general:
e-Learning is interactive with the learner, asking questions or posing challenges to which learners respond and the e-learning gives feedback. It's often one learner per device (computer or mobile), although multiple learners with one device can be highly successful as well.
D

istance learning

simply refers to delivery over communication networks, such as phone or Internet. Historically, distance learning has been live video transmission to remote locations, either one-way (video from instructor to learners), mixed mode (video from instructor to learners with live audio between instructor and learners), or two-way (video both ways).

MOOCs, Massive Open Online Courses, are a form of remote learning that typically uses recorded video for content presentation along with exercises to perform. MOOCs are increasingly using e-learning to make the learning experiences interactive.
Online learning includes all of the above.
Digital learning contrasts with the above in the sense that there may or may not be live remote connections. Instructional software programs may be loaded onto a computing device and run entirely independently.
Examples of e-Learning
American Express - Day in the Life of Small Business Operator Game:
Learners make choices about prices, product offerings, and other expenditures to see how their choices affect the success of an imaginary business.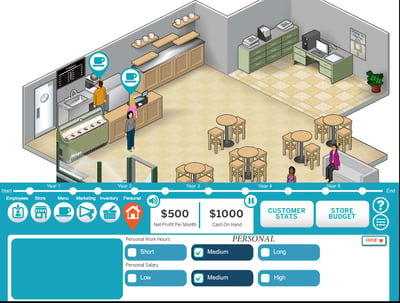 Operation Lifesaver, Inc.- Truck Driver Safety:
Drivers are challenged to perform safety measures at railroad crossings in simulated road trips. Errors in process or judgments result in memorable consequences.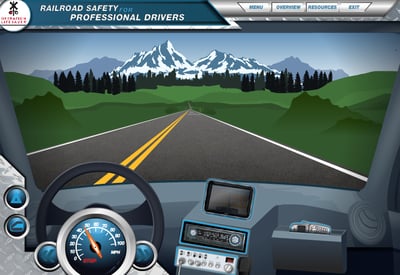 How Is e-Learning Created?
e-Learning is a form or "platform" of instructional delivery. The form of delivery neither makes e-learning better nor worse than other forms of instruction. It's what the e-learning delivers, which is called the content and how that content is delivered that determine the impact and value.
e-Learning content can be engaging, effective, efficient, and fun. But it can also be the opposite—boring, useless, and time-wasting, just as any other form of instruction can be. The difference is determined in the process of instructional design, during which designers determine the targeted learning outcomes and then create learning experiences to enable them. A learning management system is sometimes used to catalog available courses, register students, and give them the means to launch the courses on their digital devices.
Special Capabilities of e-Learning
24/7 Perhaps the most obvious advantage of e-learning is that it is usually available around the clock. You don't have to wait to start until a classroom and an instructor are available and other learners show up. You can pretty much start whenever you want to start. You can also pause and resume as necessary.
Self-paced Learners can work through content at whatever speed is best for them individually. If you already know some of the content, you can speed through it or even "test out" when such capabilities are being used. And you can take your time whenever you need to.
Private Making mistakes and seeing the consequences is one of the best ways to learn, but with classroom-based instruction, mistakes witnessed by others can be embarrassing. The potential for a humiliating experience can lead to fear of attending classes and inhibit learning. Thankfully, e-learning provides an opportunity to make mistakes privately and benefit from them.
Unbiased e-Learning gives all learners equal opportunities to learn. No teacher's pets win favors. There's no disfavor of learners who need extra examples or extra practice. And no suffering through grumpy teacher days.
Active e-Learning is fundamentally an interactive technology. With properly designed content, learners are not just watching and reading, they are busy solving problems or performing tasks. The system responds, interactively, in ways dependent on exactly what the learner did or didn't do and how the learner performed. Unlike the classroom environment, all e-learners must answer all questions.
Levels of e-Learning
Not all e-learning is the same nor uses the same instructional techniques. The purpose for which e-learning is being used determines the capabilities needed, the appropriate instructional approach, and the preparation of content necessary. A mismatch of these elements with the desired outcomes easily and all too often prevents achievement of targeted outcomes.
Since e-learning is such a broadly encompassing term and differentiation of its uses are primarily the domain of professional instructional designers, we often speak in terms of levels of e-learning to both simplify planning, set expectations of time and cost, and most importantly ensure e-learning is being used in ways to assure achievement of needed outcomes.
The table below shows the typical definition of levels 1, 2, and 3, corresponding to both the rising level of complexity, work, and cost to develop e-learning as well as the level of performance outcomes each level is capable of enabling.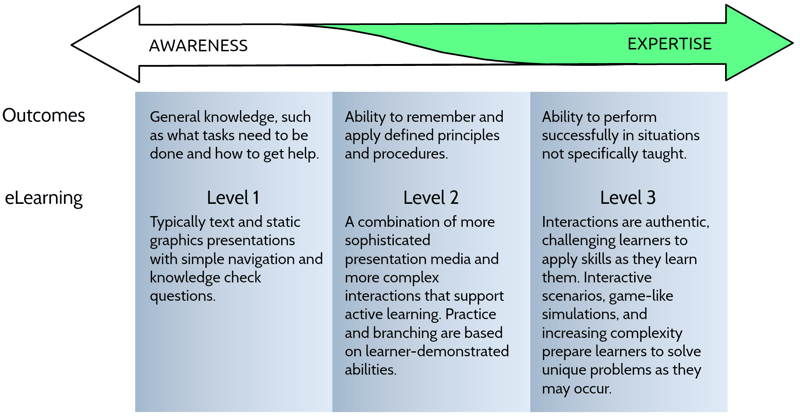 Level 1 e-Learning provides learners information to make them aware of certain things, such as job expectations, rules of behavior, principles, and facts. Often called "awareness training," it isn't really training at all, but more just a dissemination of information. It's a dangerous assumption that if people are aware of certain information, they will perform in effective ways. Without practice and assessment, we cannot know if a person is actually ready and able to perform as desired.
Level 2 e-Learning provides learners the opportunity to perform the skills they are learning, not just answer questions about them. The most powerful e-learning is built from four essential components, known in the trade as "CCAF": 1) a context in which a behavior might need to be performed, such as in an auto repair shop or a sales encounter, 2) a challenge the learner needs to meet, such as determining why a car keeps stalling or overcoming a price objection, 3) a means for the learner to indicate what they would actually do, such as connecting diagnostic equipment or helping a buyer evaluate alternative purchases, and 4) feedback showing what resulted from the learner's decisions and actions, often accompanied by some helpful mentoring.
Level 3 e-Learning delivers the greatest performance impact. When applying CCAF as described above, this level of e-learning helps people achieve higher levels of proficiency, even becoming expert. Experts have the ability to solve a wide variety of related problems proficiently, even problems never seen before let alone trained on them. Level 3 e-learning provides graduated levels of practice and often requires learners to self-assess their effectiveness while taking multiple steps to complete a task. The e-learning environment continuously reflects the evolving situation as authentically as possible, using appropriate multimedia integrated with background calculations.
Benefits of e-Learning
There are many benefits of e-learning. As mentioned above, the actual benefits realized are derived from the combination of e-learning capabilities and the content prepared for it. It takes professional skills to design content that maximizes the benefits of e-learning. While the benefits of well-designed e-learning are tremendous, poorly designed e-learning is ineffective, wasteful, and costly.
Shorten Learning Time With content properly prepared and the capabilities of e-learning fully engaged, most studies find learning time overall is typically shortened by 60%!
Lower Delivery Cost Because there's no need for physical classrooms, for learners to travel to them, or for continuous instructor availability, e-learning is typically far less expensive than traditional forms of instruction.
Accurate, Up to Date Content As processes, products, and information change, updates can be disseminated instantly. All learners can be confident they are accessing the most recent information.
Better Learning Because highly interactive learning keeps learners focused, provides active learning experiences, and keeps learners practicing to sustain mastery. e-Learning can produce measurable and valuable performance improvement not readily or efficiently achieved any other way.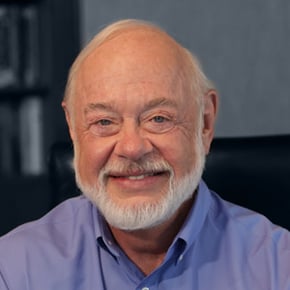 Michael Allen
Michael W. Allen, our CEO, has been a pioneer in the e-learning industry since 1975. He was the innovative force behind one of the most successful authoring tools ever created, Authorware, and our recently launched authoring and publishing system, ZebraZapps. Michael Allen has nearly 45 years of professional, academic, and corporate experience in teaching, developing, and marketing interactive learning and performance support systems. He has led teams of doctorate-level specialists in learning research, instructional design, computer-based training, and human engineering. For decades, he has concentrated on defining unique methods of instructional design and development that provide meaningful and memorable learning experiences through "true" cognitive interactivity. He developed the advanced design and development approaches we have used at Allen Interactions for the past two decades, including CCAF-based design and the SAM process for iterative, collaborative development. Michael is a prolific writer, sought-after conference speaker and recognized industry leader. In 2011, he received ASTD's Distinguished Contribution to Workplace Learning and Performance Award. In 2012 Michael was selected by The National Ethnic Coalition of Organizations (NECO) Advisory Committee as a recipient of the 2012 Ellis Island Medal of Honor. He holds M.A and Ph.D. degrees in educational psychology from The Ohio State University and is an adjunct associate professor at the University of Minnesota Medical School in the Department of Family Medicine and Community Health. Michael Allen was the director of advanced educational systems research and development of Control Data Corporation's famous PLATO computer-based education system used around the world. He was the founder, and former chairman of Authorware, Inc. and also the primary architect of Authorware Professional, which was based on Allen's extensive research on creativity and creative problem-solving. It became a groundbreaking authoring tool combining power and ease of use, and ultimately the industry standard. Authorware, Inc. merged with Macromind/Paracomp to become Macromedia, which was later acquired by Adobe.