By Richard Sites, Vice President - Training & Marketing | @rhillsites

As you know, designing and developing e-learning is full of challenges and opportunities. A while back, we enlisted our blog subscribers to share their biggest e-learning challenges they face on a daily basis. That Top 10 list is below and we want to know what you think! Are there other critical challenges you often face when designing and developing e-learning?
Getting answers to some of your tough challenges can often seem like traveling down a dead-end road, so our bloggers are dedicated to provide you advice, guidance, resources, and tips to the top new challenges you share. We will publish the new challenges you provide and our response on how to address them in a few weeks!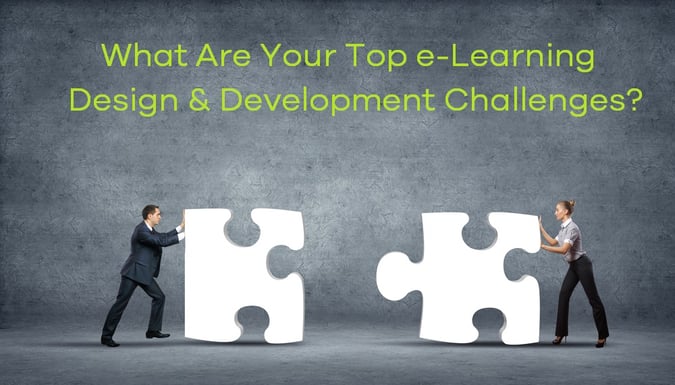 Top Ten List:
Daniel – The assumption that all that is necessary for creating a course is in the manuals, slides, PDFs, etc (raw documentation).
Scott – Managers that say, "Just video tape John talking - people will learn from that."
Paul – Being limited by or enamored by certain technology, rather than doing good design.
Jennifer – Requests for the overuse of e-learning bells and whistles.
Lisa – Having stakeholders not see the value in e-learning and not want to invest the money to get a quality product.
Yuna – Rampant objectives. I find lots of courses have a laundry list of objectives that seem to eclipse the final actual goal of the course.
Sylvia – Business reviewers who don't provide timely reviews that they committed to at the beginning of the project thereby delaying the project.
Amy – The large skill set required. Often designers have to be developers, instructional designers, graphics artists, tech support, SMEs, technical writers, proofers, etc!
Kara – I usually hear "We can't do a CBT. Our employees hate them."
Tim – Content developers who have too many other responsibilities to have the time to create high quality content within the deadline.
What are your biggest e-learning design and development challenges that are not on this list? Or maybe you are experiencing some of these same points? We want to know!
Share your thoughts by completing the comments form below!