By Mindy Waltz-Bach, Instructional Designer
It has been one year since I landed in the Mendota Heights, Minnesota office as an Instructional Designer for Allen Interactions. It has been a fun ride so far. The atmosphere is highly creative and the learning opportunities abound, but the best part is the smell of popcorn around 3pm every afternoon. Even Dr. Allen makes the popcorn sometimes.
I can't tell you how gratifying it is to be sitting at my desk and hear e-learning-speak coming from all sides. I can hear the Strategic Relationship Managers on the phone discussing the difference between a click-tell interaction and an engaging conversation model. Developers and Media Artists chat about the functionality of interactions on the screen and how we could make it work better in HTML5. Instructional Designers collaborate with Producers to execute a design within budget and time constraints. For someone who has grown up in the education field, I find this to be an exciting mix of proven educational theory and leading-edge practice.
In the year that I have worked for Allen Interactions, I have learned three important lessons about e-learning design:
1. Prototype early and often.
I know you may be rolling your eyes when I say that because it sounds like I have been drinking the Kool-Aid. But it's true. Even when I think about other organizations where I created software training videos, sketching and prototyping would have given us a much stronger result. When you start with sketches on the whiteboard and move directly into functionality on-screen with the prototype, you know right away if your interaction idea works or not.
When stakeholders get to see and play with the "sketched" interaction, it brings the dynamic nature of good e-learning to life. One leader from a client organization said flat out that he can totally see the value of meeting at the start of a project to dig into content and prototype interactions. He also noted that the prototyping process cut down the timeline for producing an e-learning course.
2. Create interactions that lead to true behavior change.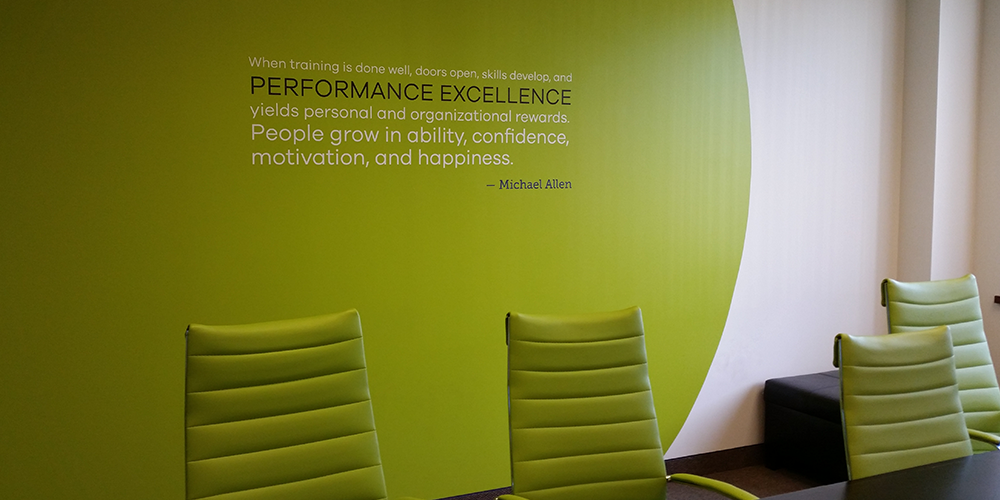 Part of promoting behavior change is breaking the desired behavior into chunks so that the learner has bite-sized pieces to practice and retain.
For example, we worked with a supermarket chain to train their cashiers to enter four-digit price look-up (PLU) codes on the produce faster. First, we had to take into consideration that people may not know the difference between parsley and cilantro. Then we knew that the cashiers needed repetition to learn to type the codes quickly. Finally, we added a "gameful" approach to the design by adding a timer to see how long it would take a cashier to type the codes for a basket of fruits and vegetables. It was exciting to work on this award-winning project with the different specialists on our team. Now we are waiting to hear if the supermarket engineers have been able to measure a change in the checkout times for the cashiers who took the e-learning course.
3. Teach through feedback.
It is okay to let learners make mistakes. People learn from getting things wrong when you give them corrective feedback. This is really one of the easiest principles to adopt. Make your feedback for a multiple-choice interaction instructive and interesting. People will remember something if they have to work a little harder to get the answer right.
For example, if you're doing sales training, rather than telling learners they were right, let them see the results of their decisions through an image of a happy customer and a meter showing increased commission amounts.
In addition to these lessons, my most meaningful take-home message for the lonely Instructional Designers who are learning as they go, and working from deadline to deadline, is that all you really have to do is try to "move the needle" with each project. It takes a whole team to create colorful, animated interactions designed to instruct learners to be successful with one small part of a job. I know that, in the real world, this doesn't happen very often.
So, remember to give yourself some credit when you take a small step and start a project with a sketch on a tablet of the different screens for a prototype. Or smile if you make the feedback to a question descriptive and relevant, maybe even humorous. You are applying a principle of good e-learning in small but transformative ways. And, don't forget about the popcorn. Pop a bowl for yourself to celebrate the incremental ways you are making training experiences better for your organization.
SHARE THIS BLOG WITH THE READY-MADE TWEET BELOW!

CLICK HERE TO TWEET: Inside the Walls of #AllenInteractions: Three Lessons about #eLearning from Working in a #DreamJob http://hubs.ly/H04m9m-0 #aiblog