by Angel Green, senior instructional strategist | @learneradvocate

Yesterday was the first official day of the ASTD ICE 2013 conference here in Dallas, Texas and we are off to a great start to the conference. Though my feet were aching at the end of the day, I was glad to have the chance to spend the majority of my time in the Allen Interactions booth. I love getting to meet people, talking to them about their unique and interesting companies and jobs.
Where else but at an international conference do you have the opportunity to talk to someone from Saudi Arabia who is developing leadership training, a one-woman learning and development department who has been on her job for one week and has no background in instructional design, and the chief learning officer of a Fortune 100 company?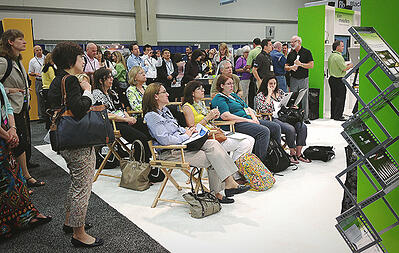 The best part of my day, however, was lunch. And not because the food was incredible or because I got to sit down for a half hour, but rather because of the conversation we had at our lunch table. During the course of the meal, our banter ranged from the benefits and challenges of mobile learning, what to do when training isn't the issue, and how to measure the ROI for training development.
In the discussion of ROI, one woman stated she was uncomfortable setting a "success target" on a specific metric. She was afraid training alone couldn't move the needle enough. She recognized the operational and managerial issues which cause employee performance to slip, not simply because they don't know how to perform the specific task.
My wise colleague, Richard Sites, had a powerful response to her statement. He advised her to tell the project owners that if they wanted to measure ROI, then they needed to start looking at the project as an investment rather than a cost. If they weren't willing to carry some of the burden by making the recommended organizational changes – to invest in the project – then they were simply looking at the project as a cost. That's why an investment is an investment and not just a cost. Project owners need to put some skin in the game as well. So smart!
See, that's the brilliance of conferences and why they are so important to attend! We all struggle with similar issues, whether you are a one woman department or the head of a major learning operation. The beauty of coming together is the opportunity to have these moments where we can share best practices and learn from one another.
Are you at ASTD ICE? What is your impression so far? Attend any great sessions? See any really cool demos in the Expo Hall? Share your comments with us!