Wed, May 23, 2012 1:00 PM - 2:00 PM CDT
It's easy to see how generational differences play out in your workplace, but have you ever stopped to think about how the generation gap impacts your sales and service?
Many sales or customer service teams have implemented a one-size-fits-all strategy for selling and customer service, but haven't taken the time to customize techniques for four generations of customers.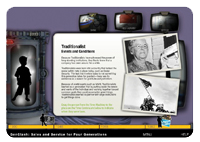 Join us for a dynamic webinar highlighting sales and customer service through a generational lens. This course was designed for BridgeWorks, whose decades of experience and best-selling books, have secured them as the leader in understanding generations. Come experience award-winning work; this course has won several awards already!
Join Lisa Stortz, strategic relationship manager, Allen Interactions and Debra Arbit, CEO and president, BridgeWorks to experience firsthand GenClash, a highly interactive (and award-winning) e-learning course. This course can increase sales and improve customer service by helping sales and service professionals adapt their approach and style to people of every generation.