GUEST BLOGGER:
Jill R. Bagley, senior manager, business development operations, IEEE Educational Activities
For many mid- to large-sized corporations, global offices are an everyday reality. More often than not, the project team assignments for these organizations will include staff from around the world. For these global teams, challenges include everything from managing multiple time zones to coordinating team efforts to bringing new team members on board and rapidly getting them up to speed on projects, technology, and organizational culture. With rapid advances in development and greater acceptance of elearning as a training method, many of these challenges can be overcome quickly.
You may already be familiar with the many benefits to implementing e-learning solutions within an organization. Some of these include reduction in training costs, standardization of training materials, 'just-in-time' delivery, and many other tangible and intangible benefits. These are all helpful for the organization as a whole, but when it comes to global project teams, there are unique ways that e-learning can be utilized to help achieve team goals.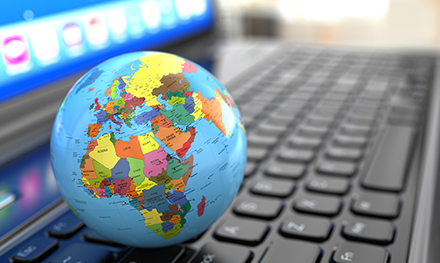 Based on feedback gathered from several multinational organizations that regularly form project teams from around the globe, it was evident that some very unique activities were made possible through the use of elearning.
The following overviews focus on two key success stories that leveraged the power of this learning medium to bring about success for global project teams.
Working around the clock:

A project team at a wireless communications organization was tasked with testing and documenting the assembly process for a new piece of equipment. Half of the team was located within the US, and the remaining half in the Asia-Pacific area. The time difference made it quite challenging to communicate in real-time, yet there was a deadline that needed to be met. The team members in Asia-Pacific shared the test criteria to their US counterparts. The team in the US was tasked with performing the testing and would then provide feedback based on their results back to the Asia-Pacific team members. The Asia-Pacific team would make the necessary changes, and resubmit, so that by morning in the US, the team could pick up their re-testing immediately without any delay. Work was literally being done around the clock! The final instructional tutorial was fully tested and completed, and the team ultimately met their deadline because of the flexibility that the content could be tested and updated in the e-learning environment.
Regulations and Certifications:

A mid-sized software design organization was acquired by a larger organization. In the process of restructuring, the organization implemented a requirement for all programmers to obtain a specific certification. With new projects soon to be underway, it was important that the programmers from all of the global locations prepare for the examination. In the various locations, teams of 2-3 formed into study groups to work together to prepare for the examination. On a weekly basis, two lead senior programmers who already held the certification offered virtual Q&A sessions where they could easily reference the standardized training materials. Having access to this e-learning saved a great deal of time and budget, and offered the global teams an opportunity to work together through training prior to beginning work on new projects. It not only prepared them for the examination, it also built synergies that ultimately carried forward to new projects.
While these two examples show unique situations, it's important to bear in mind a few other data points. Most organizations have a requirement for employee professional development. Access to e-learning can provide continuous learning environment that enables employees to keep up with the demands of their jobs, increase productivity, and possibly qualify more employees to be considered for project team assignments.
Have you used online training in your global project teams? What have been some of the advantages that you've experienced? What challenges have you encountered?