Minneapolis, MN – October 4, 2016 – Allen Interactions, a longstanding leader in building performance-changing custom learning solutions, was named to TrainingIndustry.com's Top 20 Gamification Companies by Training Industry, Inc., an organization that continually monitors the training marketplace for the best providers of gamification services/technologies in support of corporate learning and development.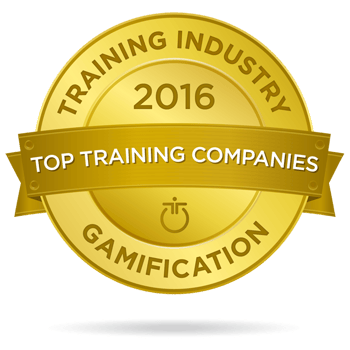 Gamification elements need to be married to effective instructional design strategies—without haphazardly throwing in points or badges—a practice Allen Interactions has been using for more than 20 years with the company's CCAF Instructional Design Model. Allen Interactions strives to help the industry shift from content-driven to performance-based learning, taking guidance for fun and effectiveness from multiple disciplines (such as game design, instructional design, human learning research, agile development, design thinking, etc.) to meet organizational and learner needs.
"We are honored to be named a Top 20 Gamification Company and continually enjoy pushing the needle with game-based e-learning courses that are fun for learners to take and exceed our clients' organizational and business needs," stated Michael Allen, Chairman and Chief Executive Officer of Allen Interactions, who added three chapters on Serious Learning Games to the second edition of his Guide to e-Learning, which was just published by John Wiley and ATD.
"Bright Horizons is proud to learn that our Virtual Lab School was recently recognized with winning Silver in the Gamification category at Training magazine's Online Learning Conference's Learning Design Challenge," said Rachel Robertson, Vice President of Learning and Development for Bright Horizons. "Our Education and Development Department created the Virtual Lab School with Allen Interactions so that classroom skills can be practiced in an online game format, uniquely making this learning benefit both safe and fun. The Virtual Lab is one example of how Bright Horizons pursues meaningful innovation to advance our goals that not only ensure that our employees have high quality professional development, but also enhance their ability to provide the best care and education for young children."
Learn more about the Bright Horizons Virtual Lab Safety Health & Safety Game here.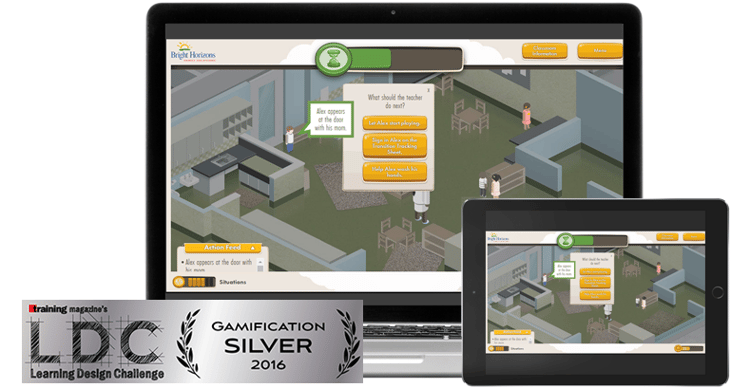 View the 2016 Top 20 Gamification Companies
Selection to this year's Top 20 Gamification Companies List was based on the following criteria:
Features and capabilities of the gamification products/services

Company size and growth potential

Quality and number of clients/users

Geographic reach

Awards, recognition and competitive differentiation
"Gaming, and the use of games in corporate training, is serious business," said Doug Harward, Chief Executive Officer of Training Industry, Inc. "These training companies bring gaming and training together in a way that can help businesses achieve learning and development goals by improving the efficiency and effectiveness of training initiatives."
About Training Industry, Inc.
TrainingIndustry.com spotlights the latest news, articles, case studies and best practices within the training industry. The company publishes the annual TrainingIndustry.com Top 20 and Training Industry Watch List reports covering many sectors of interest to the corporate training function. Their focus is on helping dedicated businesses and training professionals get the information, insight and tools needed to more effectively manage the business of learning. To learn more, please visit: www.trainingindustry.com.
About Allen Interactions

After 23 years, Allen Interactions remains a top learning solutions provider, creating Meaningful, Memorable, and Motivational learning experiences to meet organizational business goals. With a focus on developing performance-driven learning events backed by the best instructional design and technologies, Allen Interactions is devoted to learning strategy consulting services and delivering innovative e-learning, gaming, mobile, and blended learning solutions that assist top performing organizations. To learn more, please visit: www.alleninteractions.com.
About Bright Horizons®
Bright Horizons'® range of family and education solutions for every life stage helps employers address family and personal challenges, boost productivity, and win top talent. Our 900+ clients around the globe represent all industries and include 80+ Working Mother 100 Best companies. To learn more, please visit: www.brighthorizons.com/solutionsatwork.