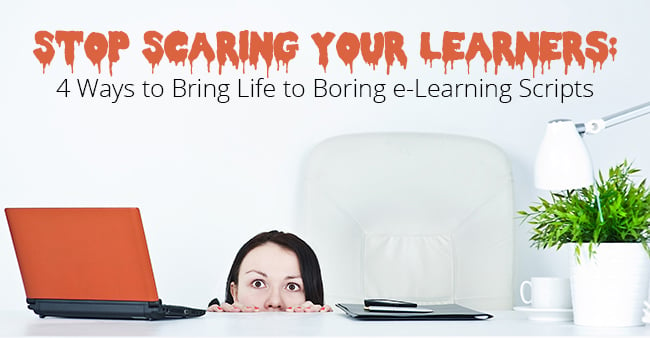 It's that time of year when all things creepy and crawly come out to play. Chances are, you'll encounter something scary in the Halloween experience. I'm always amazed by people who actively enjoy being scared. Are you one of them? Not me. Fear seems like such an unpleasant emotion—your palms sweat, your heart beats uncomfortably hard, you feel the urge to flee quickly, and so on. So I guess I should've been more honest with you. Your invitation to the newly-released horror movie? I wasn't actually home organizing my closet. And the Trail of Terror gathering? I didn't really have car trouble on the way there. In my effort to appear fearless, I was actually hiding from the truth—the real world is often scary enough for me. I don't need monsters and ghouls to get my heart pumping.
Take e-learning, for example. I recall mandatory courses that I'd put off for weeks because I just couldn't handle the terror. I imagined myself clicking the dreaded link, and listening to a narrator read the screens word-for-word. Of course I could read faster, we all can, so I'd finish the screen and do some work offline before the narrator stopped talking, which was my signal to click Next again. Her frighteningly-monotone voice would make me want to scream! I was always relieved when I conquered that e-learning monster! The nightmares would stop, the sun would come out, and the world was bright and shiny again.
So, now that I design and write e-learning courses, my vow is to never torture the innocent people who are required to take them. One of the most basic ways I can do that is by writing better e-learning scripts. Good writing can make the difference between an e-learning course that frightens people and one that inspires them to pay attention. Are you with me? Here are four surefire ways to stop scaring your e-learners:
1. Be Friendly
Friendly is a nice word, but what does it mean, exactly? Well, ask yourself, would you hang out with your e-learning course on a Saturday night? Do you like what is says and how it acts? Do you want to be with it? I don't know about you, but I choose to hang out with people who are simple, direct, honest, and helpful. So, I write, and prefer, courses that reflect those characteristics. Give me a "straight shooter" over a complicated drama queen any day.

One easy way to be friendlier is to dump any technical terms and industry jargon that result in unnecessarily complicated language. You want your learners engaged, not working hard to decipher big words.

Sometimes, technical terms are necessary, especially in administrative, technical, mechanical, or scientific contexts. If you can't avoid them, be sure to define technical terms the first time they occur using simple and concise language.


Read More